Gulf Shores Alabama : Condominium Homes : Resort Property : Real Estate Sales : Vacation Rentals By Owner
Alabama Gulf Coast Hotels Gulf Shores Condo Rentals Orange Beach Condo Rentals Alabama Gulf Coast Weather
Gulf Shores Vacation Rental By Owner, Gulf Shores Condo
Gulf Shores Alabama Resort Property
Lighthouse Condo For Rent in Gulf Shores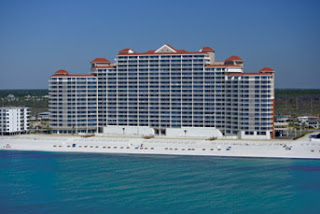 Property Details: 14 Reviews, 5-star Rating, Sleeps 8, 2 Bedrooms, 2 Bathrooms, Min. Stay 3 – 7 nights.
Newly renovated in February of 2014, this gorgeous 2 bedroom/2 bath + Bunkroom on the 16th floor of the Lighthouse Condominium is the perfect setting for a memorable vacation. The expansive balcony and floor to ceiling glass sliders provide a window to Alabama's Gulf Coast and the blue green waters of the Gulf of Mexico.
Features new ceramic tile floors, paint, light fixtures, updated kitchen with new stainless appliances and granite counters. Our renovation also includes all new furniture, electronics, bedding, décor, housewares and a comfortable and colorful coastal design.
Sugar-white beaches, fresh seafood, championship golf courses, charter fishing trips, wildlife areas and historic sites are just a few of the treasures Gulf Shores has in store for its visitors. Foley, a town about 20 minutes from the Gulf, is a water-sports paradise. Surrounded by back bays and rivers, there are many opportunities for outdoor recreation and fresh seafood. This area is the perfect getaway and has a little something for everyone. According to the U.S. Census Bureau, the city has a total area of 28.0 square miles, of which 23.2 square miles is land and 4.8 square miles is water.
Click for – Gulf Shores Vacation Rentals By Owner
Click for – New Listings, Gulf Shores Condos For Sale
Gulf Shores Alabama Vacation Rental By Owner, Lighthouse Condo
Location: Gulf Shores, AL, USA
……………………………Home…………………………………………Older PostsHome
…………………………………………………………………………………………………………………
This Website May Contain Affiliate Links
AlabamaRealEstate.BeachMLS.net : A Beach .Network™ Website : All Rights Reserved : Terms of Use : Privacy Policy
Prices, terms & conditions subject to change without notice. Contact Visitor Info: Gulf Shores-Orange Beach Tourism
Beach .Network™, Property Managers, Owners, Agents & Advertisers are not responsible for errors & omissions.

Visit these Websites –
03/31/2016 – Da Vinci: Machines & Robotic

Gulf Shores Vacation Rental By owner

Perdido Key Vacation Rental By Owner, Perdido Key Condo

Alabama Traveler
Gulf Shores Condo, VRBO Home

Real Estate
Alabama Traveler
Gulf Shores Condo, VRBO Home
Gulf Shores Condo For Sale, Gulf Shores